Thursday, February 09, 2006
Smally's Spastic Party!
Bright yellow, longish in shape, sticking out prominently, just begging to be pulled out in the Fiction section of Borders.
And I think I've finally found my favourite (humor) author!
I'M OVER THE MOON ON A COW!!!
He's spastic, original, ridiculously funny.
Sigh, what a refreshing book.
Highly recommended by me!
SMALLY THE MOUSE:SMALLY'S PARTY by DAREN KING.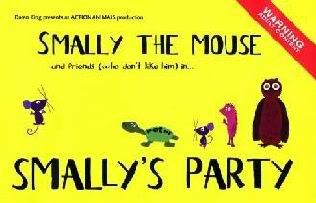 Comments:
if u mean did we buy it for your b'day, you know it now. no lah, 67 bucks for a fifteen minute read. bluegh, almost wanted to though.
auds,
yea im almost done heehee.
:O)
Post a Comment
<< Home